but 'tis still the season to be jolly. There was much cause for celebration Chez Hesadevil this year.



Some of the celebrations and decoration began with the March of the Cosies

.


It is traditional that the youngest member of the family distributes the gifts after Christmas Eve dinner and the honour, this year, went to the BF. Some gifts were, of course, knitted.


Button hat in lilac silk for The Daughter. I gave her a choice of buttons.


Same pattern in blue woolease for me. I love this button.


Neck warmers in Sparkly blue Debbie Bliss yarn for the neighbours' (both sides have two) daughters. The blue buttons were two of a set from which mine came. You can just see the bottom edge of a purple silk lacy scarf for one of the older girls.


The other elder daughter received this hat.



The Daughter bought Ronnie a virtually indestructable toy which lasted all of 30 seconds. His favourite from the haul of gifts (and the cheapest) was a squeaky reindeer that he carries around as his Teddy.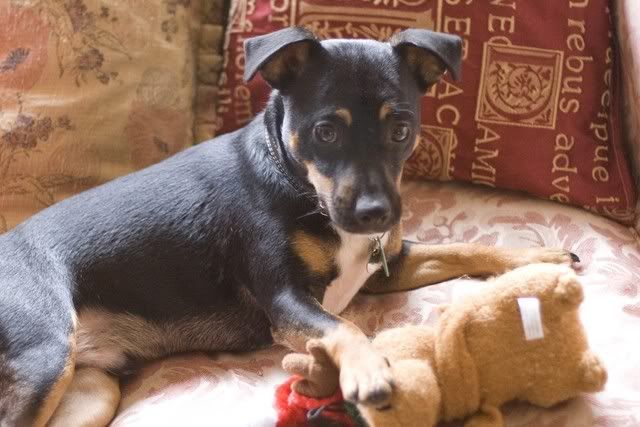 - image ©
totkat
He wishes to make it very clear that it is his Teddy and he will swap it only under great duress for his squeaky ball.


We decided to buy another lemon scented tree. Last year's is planted at the bottom of the garden, sheltered from the wind and is thriving. This year's tree is in the conservatory decorated with white Christmas lights; a contrast to the red rope-lights hung across the opposite window and roof.



Christmas window with variegated holly from the garden.


Mantlepiece with candles and evergreen cut from the trees in the front garden.



The celebrations continue into the New Year and all is well.