Silas T Terry's Bedtime Story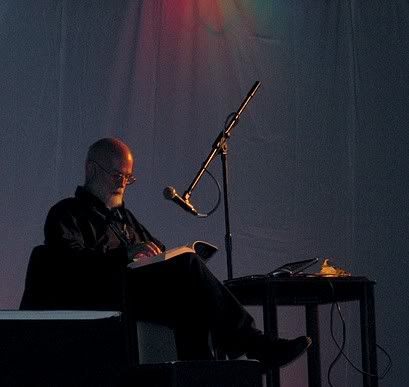 "I was Gobsmacked. They leave the Universe switched on all day."
Terry Pratchett, on his first 'daylight viewing' of Jupiter from his home observatory's digital telescope.
Guest of Honour Interview, DWCon 2006, Saturday August 19th.






_________________________________________________


Just who is Silas T. Firefly, membership number 666, who bears an uncanny resemblance to Terry Pratchett?

I asked Terry this at DWCon 2004 and, in the intervening two years (TWO Years? Seems like only yesterday) his answer got lost in the Infernalnet. So I asked him again, and even he seems to have forgotten the details.

What he does remember is that it's an amalgem of two different names.

I tracked them down -

* Silas Tomkyn Comberbache - the name used by Samuel Coleridge Taylor when he enlisted in the King's Light Dragoons.
* Rufus T. Firefly - a name adopted by Groucho Marx for one of his film roles.

Full details brought to you by Google, Hesadevil and the letters S, T, and F.


________________________________________________



I had a post-breakfast chat with Ian Stuart this morning and talked to him about 'What it Means to Be Human' that was on TV last night. I also thanked him for his book 'Figment's of Reality' which gave me much of the language I needed for a chapter featuring Fred, in 'Family'. He told me the name of a fellow scientist who has a website specifically for writers researching all things scientific for their fiction - of course, the name's gone, along with the word for 'baddie' that Terry used yesterday in the Guest of Honour Interview - I knew taking notes in the dark was a bad idea.


totkat Various people told me to say 'hi' - Donal (he persuaded me to go and watch the Seamstress' XXX rated film last night, what a fibber he is) Paul (minus Karen and Miranda), Gideon, Rachel (and bump), and Ben.


____________________________________________________________




All the up-to-date news from the Con. can be found on Live Chronicle

Who is The Black Widow?