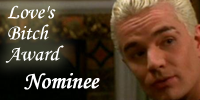 Voting has started in the Love's Bitch Awards where Family:Blood Calls to blood has been nominated in the Angst category.

You'll find
speakr2customrs Savage Beauty (Best AU) and Noggin the Nogg (Best Crossover),
myfeetshowit's Vorpal Blade (Best Crossover) and
ramses_2_w fascinating WIP A Mango a Day Keeps the Shanshu Away (Best Drama) nominated too.

Ask not what your favourite fanfic writer can do for you, ask rather what you can . . . oh just go and vote, will ya'.