Twelfth Night is upon us and it's time to take down the decorations and pack them away for another year. It's also time for the finale to our story.

The lovely chapter picture is one of
bogwitch's original designs. What better way to end our tale - with an illustration that takes us right back to where it all began; to one girl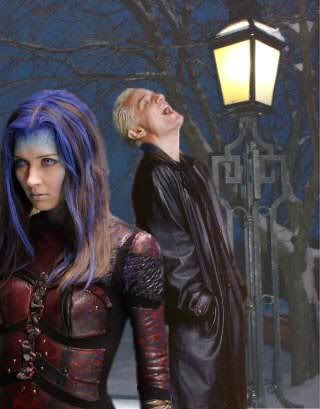 On the Twelfth Day - Twelve Drummers Drumming



Previously on Twelve Days


I am off to visit Mum tomorrow and have some R&R with Miggins over a bottle of champers and some wickedly dark chocolate, so won't be able to post the link to the Epilogue of Twelve Days but am looking forward to reading it along with the rest of you, to see the results of all the head banging brain storming that went on between the three of us into the wee small hours of this morning.

My sister has provided me with the perfect excuse not to visit her - she's come back from Spain with a virus. Given that I spent November and December battling with one, I told Mum to tell sis not to expect a visit. So she will survive the trip. CDSers gave me a wonderful idea for saying goobye to Aunt Alice. I'm donating a copy of the book I wrote about my old school to her local library, in her memory. I'm sure she was instrumental in making sure I went there and I bless her memory for it. I'll also donate one in my Dad's memory. I wanted to dedicate the book to him, but felt that would be innapropriate.